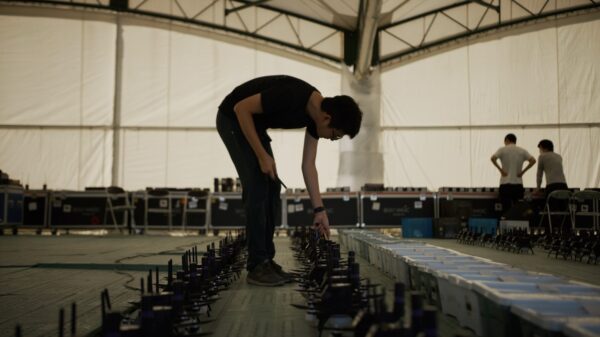 Role
Co-Founder and Creative Director at SKYMAGIC
Ever wanted to see what happens behind the scenes of a SKYMAGIC drone light show? Well this month we have been taking our followers through the process behind the scenes in the lead up to a performance.
I have had the privilege of being a part of many fantastic projects with a broad range of clients, not to mention travelling to many beautiful locations across the world. But it dawned on me that outside of our world at SKYMAGIC, not many people get to see and truly understand what goes on behind the scenes of a project. Our team can spend months preparing for a show, from site visits, content design and more – we would like to share the journey behind the scenes through our eyes at SKYMAGIC.
The start of any new project begins at our SKYMAGIC offices in Leeds and Singapore! We have a fantastic, dedicated team across Europe and Asia, allowing us to move from left to right across the world. Over recent years our team has scaled to a full-time team of 20 staff, drawing on a range of backgrounds and skills within technology, live events, robotics, marketing, aeronautical engineering, content creation, logistics and PR.⁠ We are fortunate that there is never a dull moment at our SKYMAGIC offices. Whether it is our creative director and his team sketching new and exciting ideas for future drone shows, to our technical team advising how to make this into a reality. We are one unified team that offers clients a full turnkey service from initial designs right through to the live delivery – we love what we do.
When speaking to clients, one of the first and most important aspects we discuss is the location. When we are exploring both outdoor and indoor drones, we need to ensure that we have the minimum safety distances and parameters which have given us the flawless safety records that we hold today. From the concrete jungles of urban conurbations to the remote openness of beautiful beaches, a crucial part of the process is to undertake a detailed review of the proposed site. Thanks to our proprietary testing software, we can assess the overall feasibility of a site within 24 hours of arriving at the location.  This allows our technical team to give the proposed site the green light to our creative team. This is where the fun begins, as we begin our creative show design, or as we call it… STORYTELLING!
Recently we have spoken a lot about creative design and why storytelling is at the heart of what we do, setting us apart from the crowd. Every show has to have a meaning and purpose. As said by Patrick our Creative Director "The sky is such an amazing canvas to work with, why would you tell someone else's story?". Everything we do is therefore bespoke, personalised and has huge importance to the client and the message that they want to display in the sky.
Whilst we have a domestic presence, everything we do tends to always be international and there's nothing we love more than creative design, drones and of course… travelling! ⁠We love meeting new clients, exploring new territories and experiencing new cultures. SKYMAGIC has worked in over 20 different territories over the course of the last 3 years. We have performed more shows across the Middle East than any other company and have had the privilege of being the first company to deliver drone shows in the United Kingdom, Morocco, Japan, Switzerland, Azerbaijan and the UAE. With over 10,000 flying hours, we set world records telling stories to many millions of people globally.
So, as you can see from the first call with the client, right through to showtime and the first call to arm the drones, SKYMAGIC offers clients a full turnkey service. We have over 15 years' experience in the world of live entertainment and pride ourselves on our rich knowledge and first-hand experience across both creative design and technology.
Emily Wallace